When a legend flies with a legend
Jul 3, 2020
"The Kunovická L 410 is the best aircraft in the world." When the legend of test pilots Stanislav Sklenář declares this about the legendary turbocharger from LET Kunovice plane-maker, it will probably be true.
A famed turbolet. Stanislav Sklenář has been flying the Kunovice L 410 for 44 years. When Aircraft Industries, formerly LET Kunovice, celebrated the 50th anniversary of the legendary L 410 turbolet last year, Stanislav Sklenář said of it: "It is designed with love, manufactured with care, flown with respect." The legendary test pilot of the Kunovice plant would not change this statement, not one letter: "I've flown around fifty types of planes, so I can compare them. And I claim that our aircraft from Kunovice are the best in the world in terms of flight characteristics."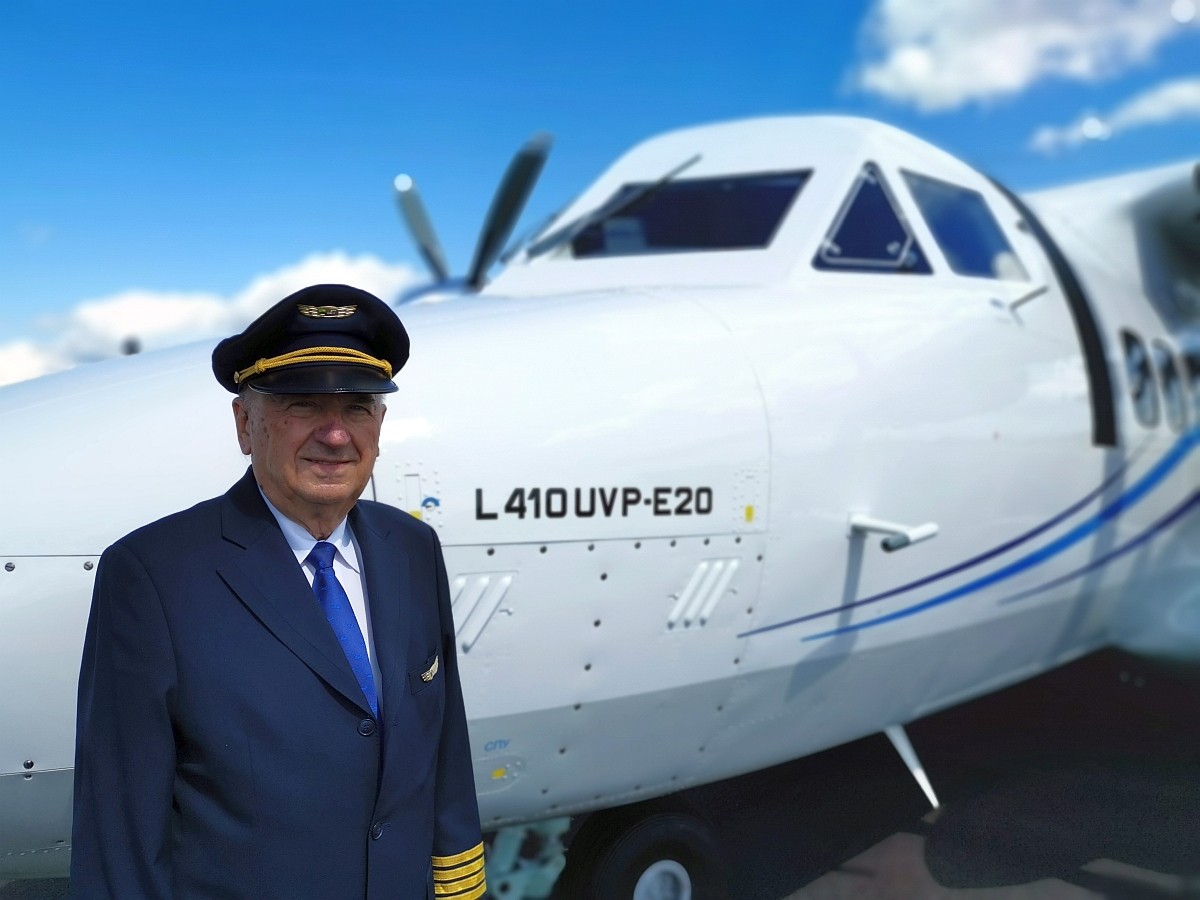 If someone knows "the four hundred" better than their shoes, it's Stanislav Sklenář. He became the first test pilot of LET Kunovice in 1976, almost to a day exactly seven years after the first take-off of the turbolet. At the age of 78, he is still today, and even after 44 years in the company, without even a hint of retiring.
BUSHMAN: How did you get here to Kunovice as the 1st test pilot?
SKLENÁŘ: I was the head of the aeroclub here, and when it was necessary to fly something on the L 410 or gliders in the company, I went to help as a part-time job. Since 1976, I've been here as the lead test pilot, including the latest version of the L 410 NG.

BUSHMAN: What's more adrenaline for you, piloting a glider, or a jet?
SKLENÁŘ: Glider pilots get a lot more respect as you have to be damned careful to reach the airport. However, it is actually similar to one with an engine: the engines can stop… So it is necessary to keep in mind that you need to have a reasonable airport within reach for a safe landing, or a meadow or field of course. Otherwise, gliders were manufactured here completely. They were the basis for our aeroclubs, and they were sold abroad. Over three thousand of them were made here – it was a large, long-running part of our production. And they were happy with them everywhere. A large number of American military pilots started on them, they were in aeroclubs in Russia, then the Soviet Union, they fly all over the world, as they say.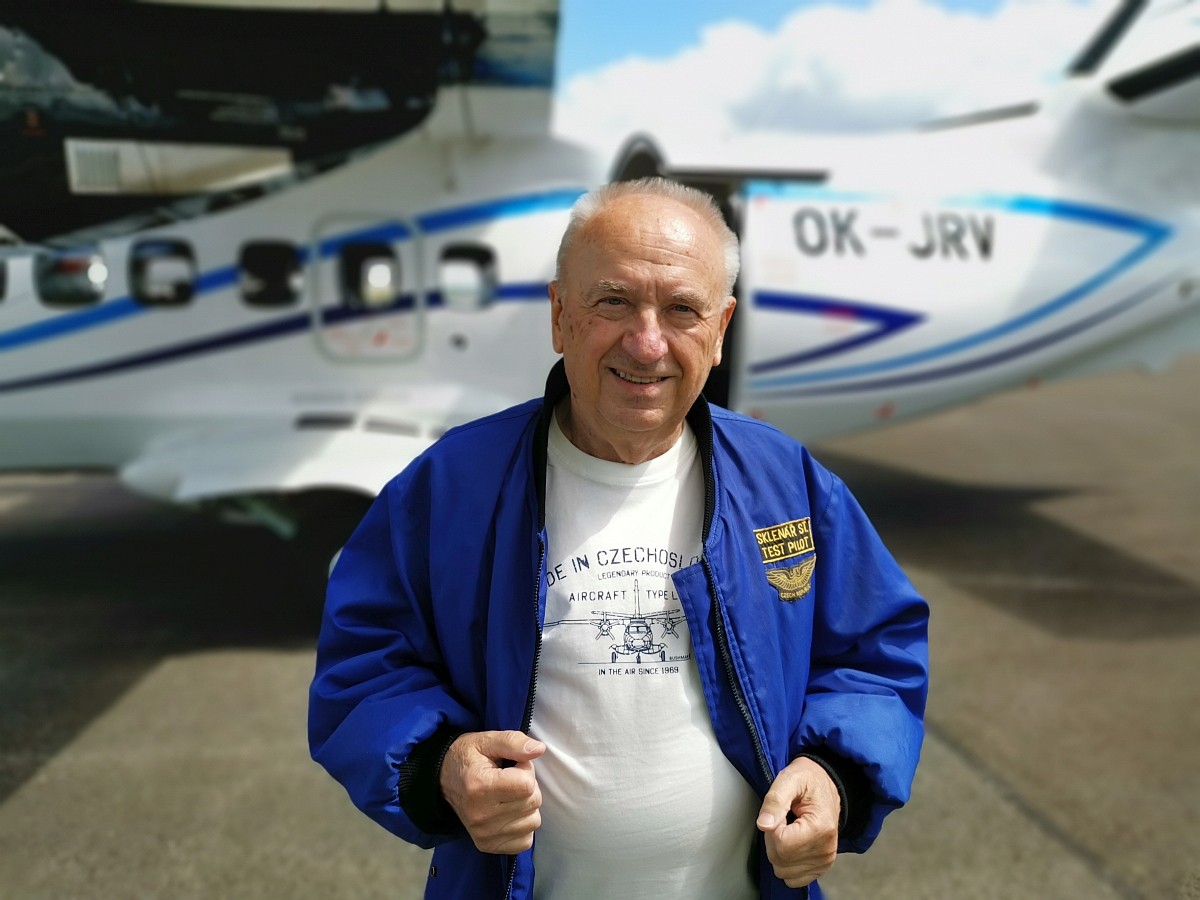 BUSHMAN: How did you become the 1st test pilot?
SKLENÁŘ: Experience is the basis. I already had some, I had flown over two thousand five hundred hours and knew a little about it. I'd started with theoretical training, where you get acquainted with all systems, engines, propellers, and then practical training only in 1976. For a number of aircraft, whether it was a Blaník, Čmelák or some other small aircraft, I started as the 1st pilot in terms of the L 410, as well as the 1st and 2nd pilot. In that year, 1976, we were three and took turns in both positions. Alternation ensures that one person still has to be careful and the other controls him. I was in my early thirties, my colleagues in their fifties, and I was constantly learning and gaining experience from them.
BUSHMAN: Does a test flight have any specifics?
SKLENÁŘ: Yes, the flight is fully prepared and has a detailed schedule of what will be tested. Once it's the propellers, once it's the engines, once it's the navigation. So that it doesn't just fly for nothing. The flight plan is prepared by the flight testing laboratory, which clearly specifies the individual points in the programme and we must meet them after starting. This is the principle of test flights.

BUSHMAN: Isn't that boring? Don't you feel like doing something else while flying?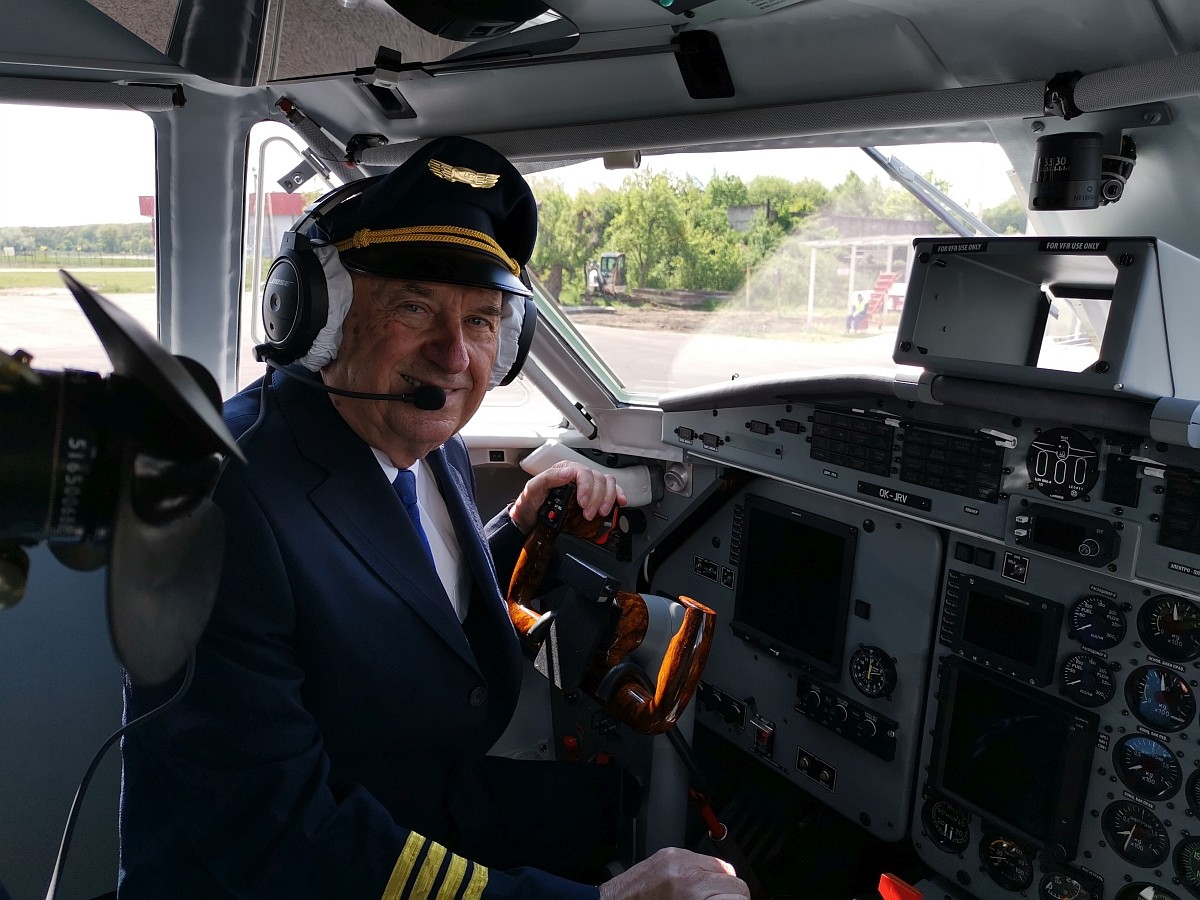 SKLENÁŘ: The taste and idea for that is one thing, but the test flight simply has clear rules that you must follow. However, it is different during demonstration years for customers. To make the airplane look like the best in the world, unusual things are done with it: it flies on one engine, both engines stop, it simply shows what the airplane can do to make the customer realize that it's not just an airplane. It is, as they say, Halabala… or you might say: Helter Skelter.
BUSHMAN: Do you have experience with the competition?
SKLENÁŘ: Of course I do, I've flown about fifty types of planes, so I can compare one with another. I say that our L 410 from Kunovice are the best in the world in terms of flight characteristics. They are not insidious, and sometimes they even forgive pilots even a small mistake.

BUSHMAN: Taking the latest type of L 410 NG, did it have any great leap of development compared to the previous types?
SKLENÁŘ: we pilots know the most in the cockpit. In the beginning, all devices were round-dialed, analogue, and with the needle on the scale we could read speed, height, everything. Then they gradually changed, some devices remained 'round' and we gradually went over to digital ones. These were gradual steps, each subsequent version became more and more digital, and on the L 410 NG about 85 percent of the devices are already digital.
In addition to the cockpit, the advantages of the modernized L 410 NG include improved performance, especially in range and endurance - both of these parameters have doubled compared to the previous modification. It was possible to achieve such changes mainly thanks to the modernized wing with an integrated fuel tank. The most visible design change is the extended nose of the aircraft, where the enlarged front luggage compartment is located. There have also been changes to engines that are more powerful.
BUSHMAN: Where does the Kunovice L 410 fly today?
SKLENÁŘ: In the beginning, we mainly supplied around 80 to 85 aircraft to the Soviet Union. The L 410 is currently flying around the world. Their main advantage is that they land even in hard-to-reach areas or at the world's most demanding airports, such as Lukla, Nepal. Forty-four can be found in Asia, Latin America, Africa and Europe.
BUSHMAN: Do different markets have different demands for aircraft modification?
SKLENÁŘ: The customer has figured out in advance what he will do with the aircraft. We can adapt it for parachutists, ambulance or patrol versions, for passengers only or only for cargo, or even half and half… there are many modifications. Or maybe they need to fly to airports with a maximum runway length of 550 meters, which is very short. But we can take off from such an airport and land at it. Then there are, for example, specific altitude requirements - as I said, we delivered the plane to Nepal, for example.

BUSHMAN: Of what parameters is an aircraft in this category? "The best in the world", as you said?
SKLENÁŘ: The L 410 has the ability to take off and land on short unpaved runways and also tolerates extreme climatic conditions very well, from -50 to +50 degrees Celsius. We say about the four-hundred-ten that it's the "offroad" among aircraft.

BUSHMAN: Is there a place you wouldn't even want to land with the L-410? Or can it do everything?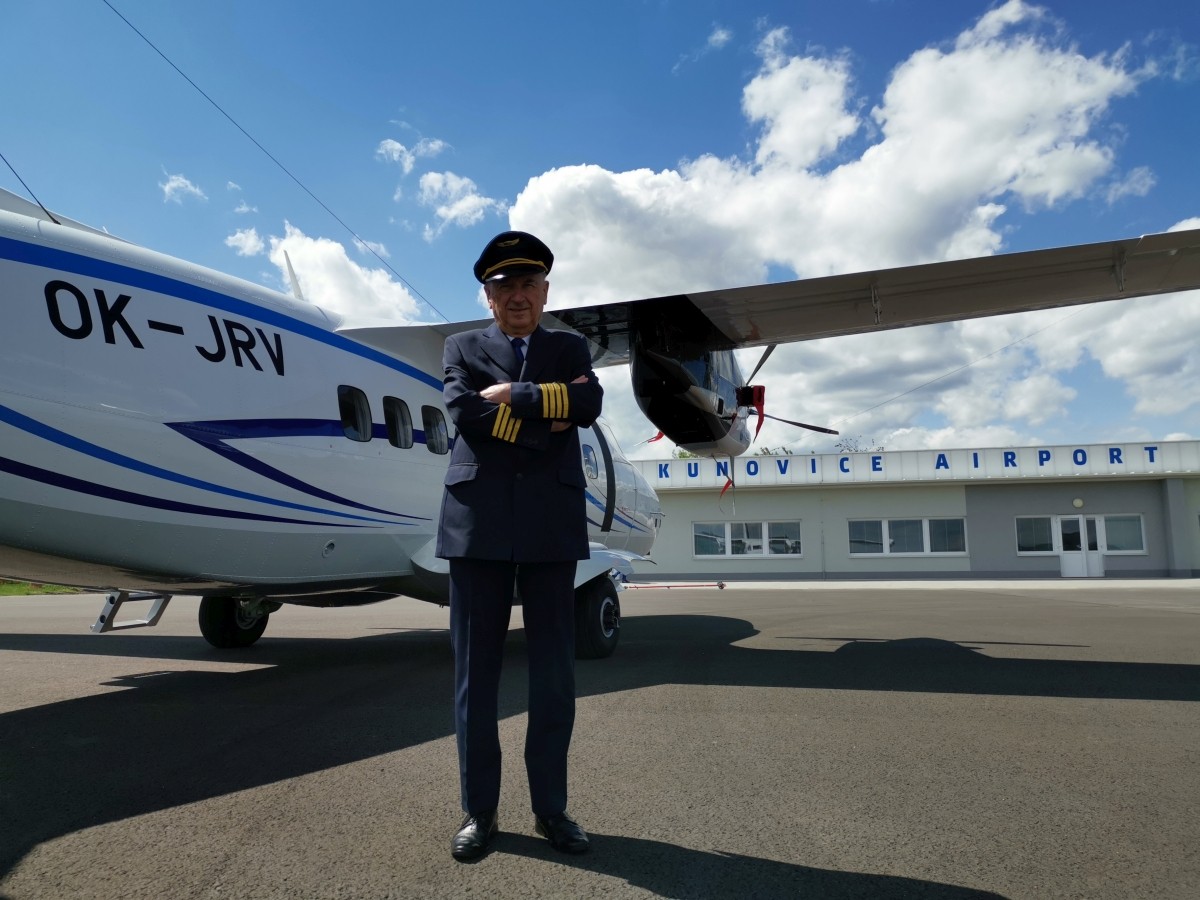 SKLENÁŘ: Rather! I have fond memories of an island off Australia. The plane needs an average of 650 meters, but here was a gravel track of just 600 meters, so there's a need for absolute accuracy. So, an interesting airport that not every plane can handle. Mainly naturalists, divers and the like fly there, and thanks to the L 410 we can transport nineteen there and back in one flight.

BUSHMAN: I read that the very first L 410 was christened Matilda. Does the L 410 NG have a nickname?
SKLENÁŘ: It doesn't. The name Matilda was just a quick reaction from the mechanics, it was supposed to take off on her saint's day, but it didn't work out.

BUSHMAN: Vy L-410 nějak familiárně říkáte?
SKLENÁŘ: Ne, je to "čtyřistadesítka", nebo prostě "turbolet". V Rusku tomu říkají krásně: čeburaška. To je vymyšlená postavička z animovaného filmu. Velice milá, jako to letadlo.

BUSHMAN: Ve firmě jste už 44 let – neměl jste chuť někdy odejít jinam? Nelanařili vás?
SKLENÁŘ: Jsem hodně přivyklý na tento kraj, na Kunovice, takže i když kamarádi odešli třeba k ČSA nebo jiným společnostem, já jsem nikdy neměl pocit, že odtud musím odejít nebo že půjdu za lepším výdělkem. Piloti u ČSA a jinde mají možná dvakrát vyšší výplatu, ale mě to tady baví – zkoušení letadel, pořád se vyvíjí něco nového, už bych nechtěl nikam odcházet.

BUSHMAN: How do you refer to the L-410… your familiar name?
SKLENÁŘ: No, it's "forty-four", or just "turbolet". In Russia, they call it a real beauty: Cheburashka. This is a fictional character from an animated film. Very nice, like the plane.
BUSHMAN: You've been in the business for 44 years - have you ever wanted to go elsewhere? Didn't they plan that for you?
SKLENÁŘ: I'm very used to this region [South Moravia], to Kunovice, so even though my friends went to CSA or other companies, for example, I never felt that I had to leave or that I would go off for better earnings. Pilots at CSA and elsewhere may have twice the pay, but I enjoy it here - testing aircraft, something new is still being developed, I wouldn't want to go anywhere else anymore.

BUSHMAN: How do you keep fit so you can keep testing for so long?
SKLENÁŘ: Nothing should be done to excess - with food, with drinking, playing sports a bit. That's all. Maybe I've been quite lucky with my health, although it wouldn't suit everyone. But I don't really have any special recipe.
BUSHMAN: And how much longer do you plan to keep flying?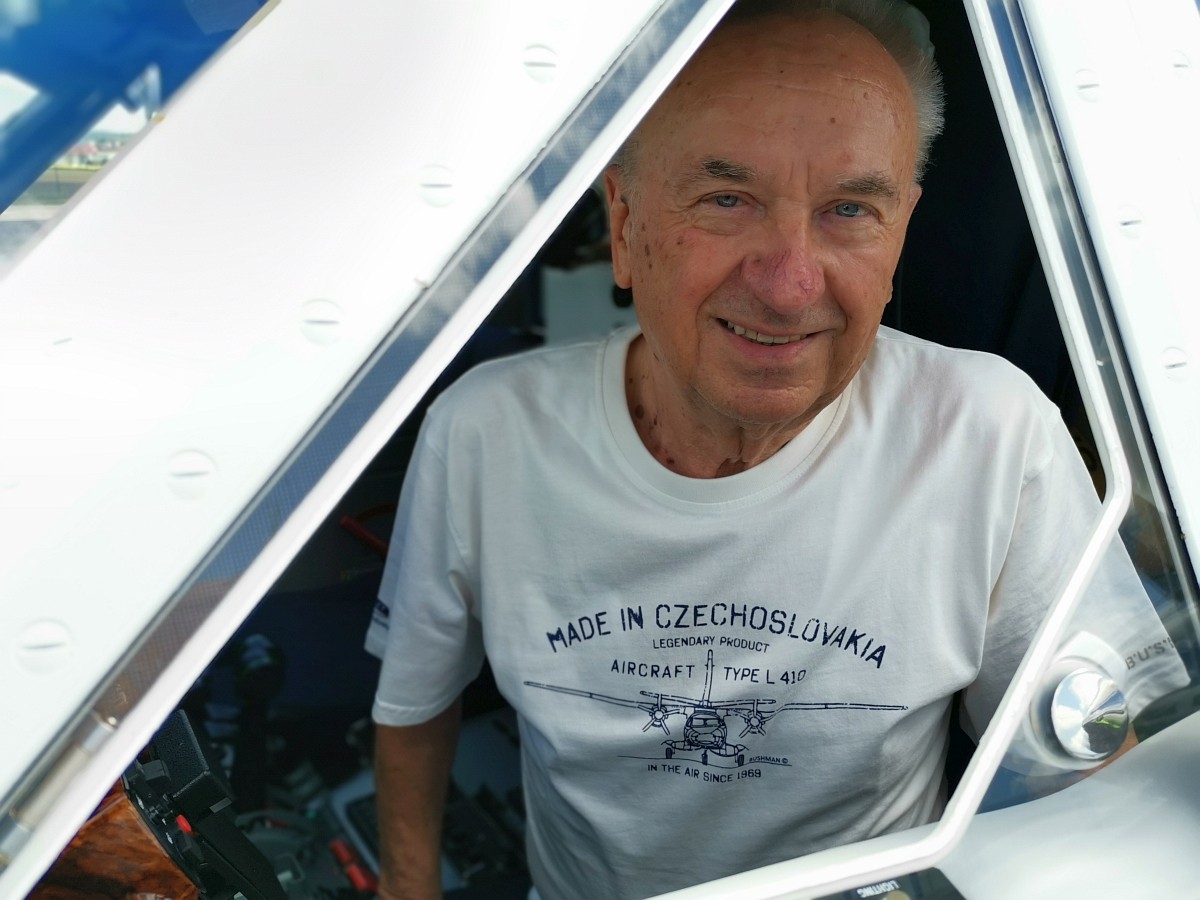 SKLENÁŘ: I go for a medical examination every six months. There will definitely come a time when I say that that's enough for me. I used to fly for about 800 hours a year, today I keep it around 200. However, I also maintain my aviation qualification as an inspector, examiner of the state aviation inspectorate, and I test pilots from a wide area for instrument and normal flying.
With a legend on his shirt: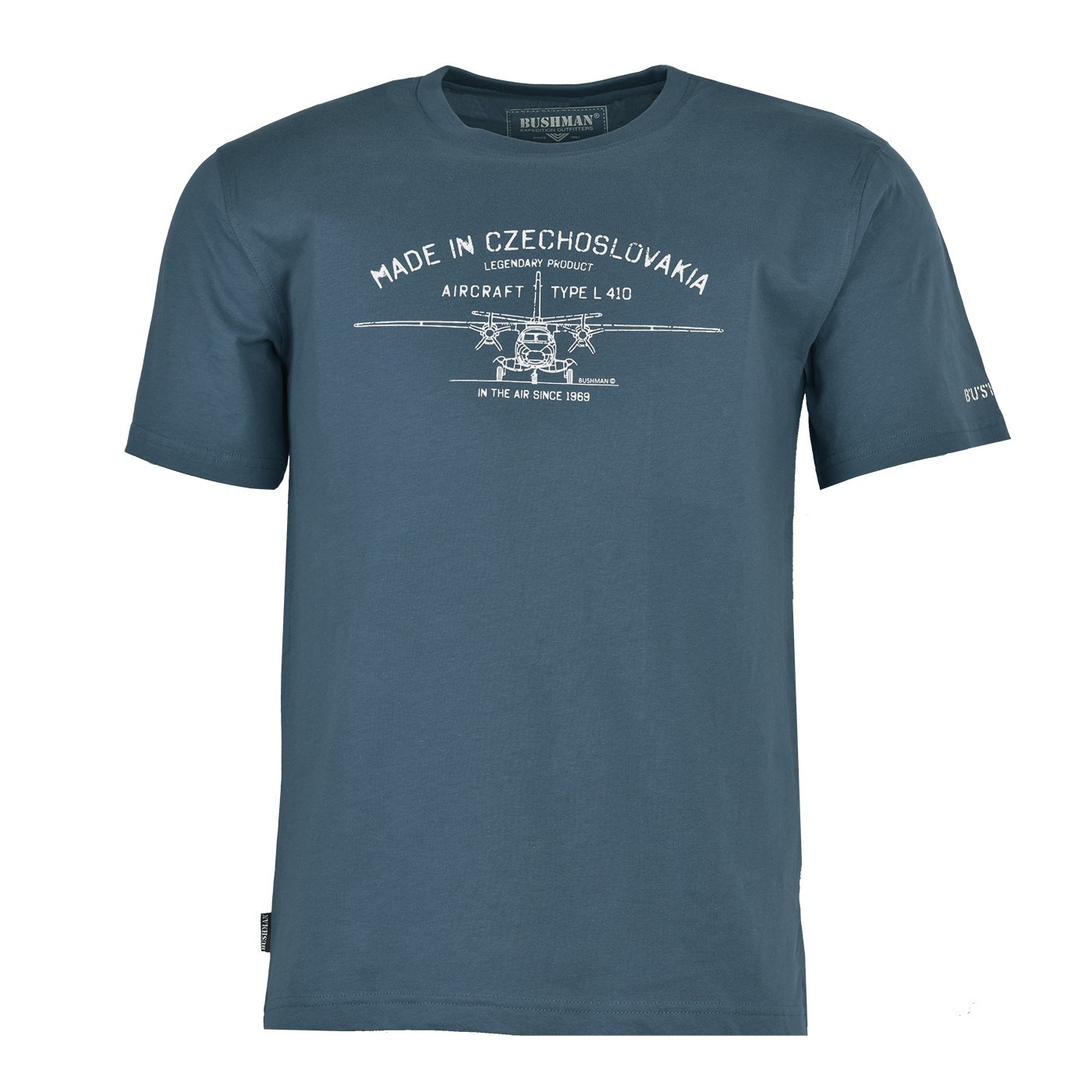 BUSHMAN values things that have conquered the world or the hearts of past generations. The Kunovice aircraft L-410 Turbolet, which will carry up to 19 passengers or 1.7 tons of cargo, has been in the air since 1969. Fly through an aircraft that is famous for its robust construction, safety, temperature resistance and the ability to land or take off on short and unmaintained terrain, you can at least do it symbolically in a comfortable BUSHMAN BOBSTOCK blue
t-shirt. We released it in a super-limited edition, and if you can't find your size anymore, choose from other legends on the prints of BOBSTOCK T-shirts from the series:
Made in Czechoslovakia.
Next picture