Bushman Materials, or What we sew with and Why
Sep 6, 2023
Since the beginning of the Bushman brand, cotton has been our core material. The quality and the sources, the increased positive properties such as durability, absorbency or softness have been, are and will continue to be closely monitored. We are part of any possible change and therefore want to lead and inspire others with our steps towards cleaner and more transparent production.
1. Cotton, the Holy Grail of our brand
It's elastic
, tolerates washing and wringing well, although it
tends to shrink
at higher temperatures. It
absorbs moisture well
,
dries quickly
and takes alkaline substances (yes, even sweat) well. It's lightweight yet durable, and
its strength increases with soaking
. It therefore has perfect absorption properties and is breathable and soft to the touch.
It's easy to dye
, but its colour fastness in sunlight and in the wash is not comparable to synthetic fibres. However,
unlike them, it doesn't collect static electricity.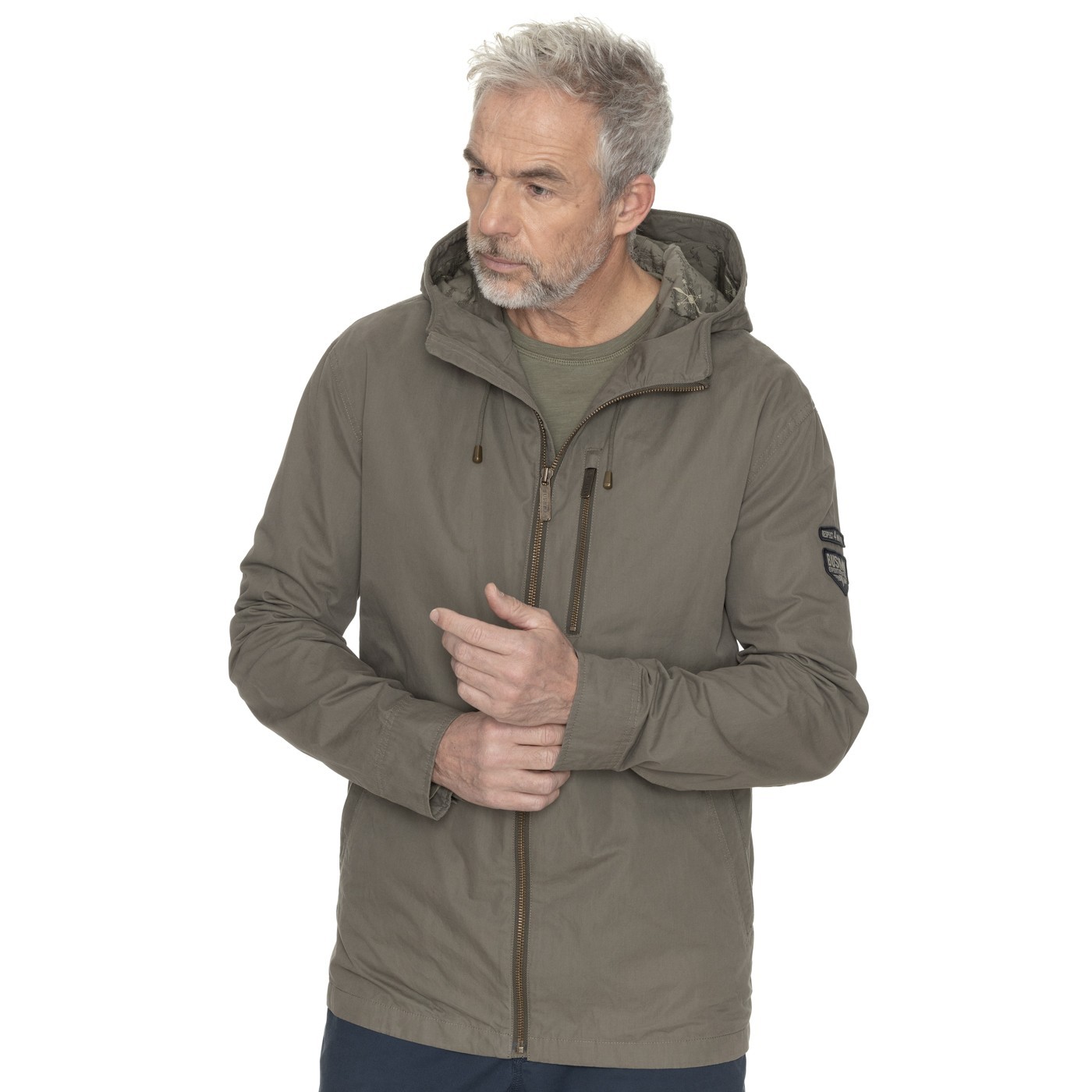 The quality of conventional cotton is based on its cultivation.
It reflects climatic conditions, which vary according to the country of origin and the type of soil on the plantation. It's a water-intensive crop, with a low resistance to pests, which is why the use of pesticides, herbicides and artificial fertilisers is often the norm, leading to a successful harvest. Some particles bind directly to the fibres and can irritate sensitive skin. For this reason too,
we believe it is the responsibility of every brand to strive to achieve targeted support and control of product quality from the yarn itself.
Men's GUARDO jacket
Women's GOULA dress
2. BIO and organic cotton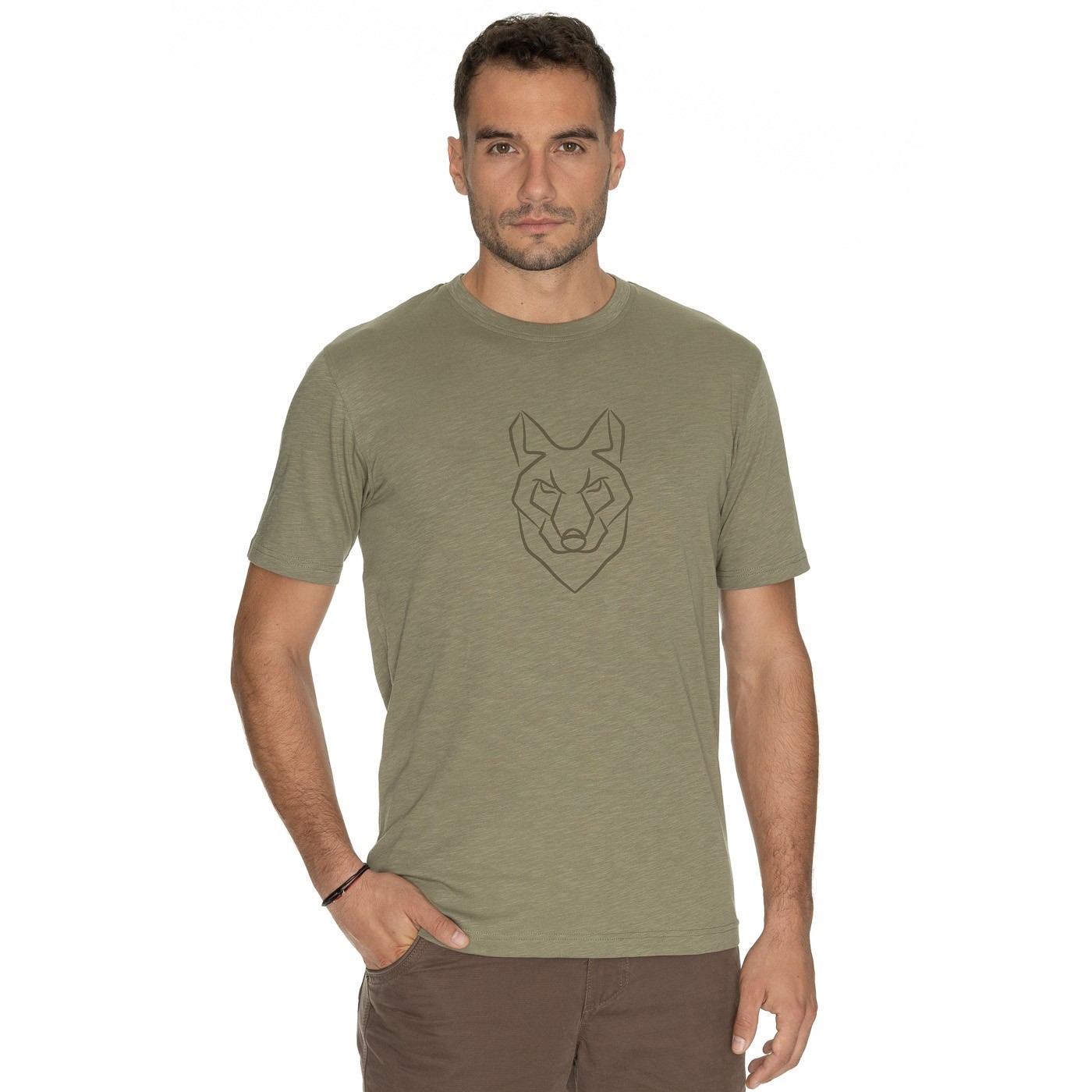 This is an alternative to conventionally grown and processed cotton.
It's grown without the use of pesticides
using only compost, natural oils and dyes made with less water consumption. It's processed in accordance with the international standards for organic production on plantations where no chemicals have been used for a minimum of 3 years in order to be certified organic. This is also why
the material is softer, of better visual quality, shinier and, supposedly, more fragrant.
Men's ANVIL T-shirt
Women's BITSY T-shirt
3. Mercerized cotton
Mercerisation is the process of treating cotton yarn with caustic soda, which causes the fibres to 'swell'. This increases the strength and lustre and
makes it softer and more comfortable to the touch,
and could therefore be compared to silk. Colours on such treated fabrics stand out better (up to 25%) and beautifully rich colours can be achieved, which is not possible with conventional cotton.
4. Cotton blended with elastane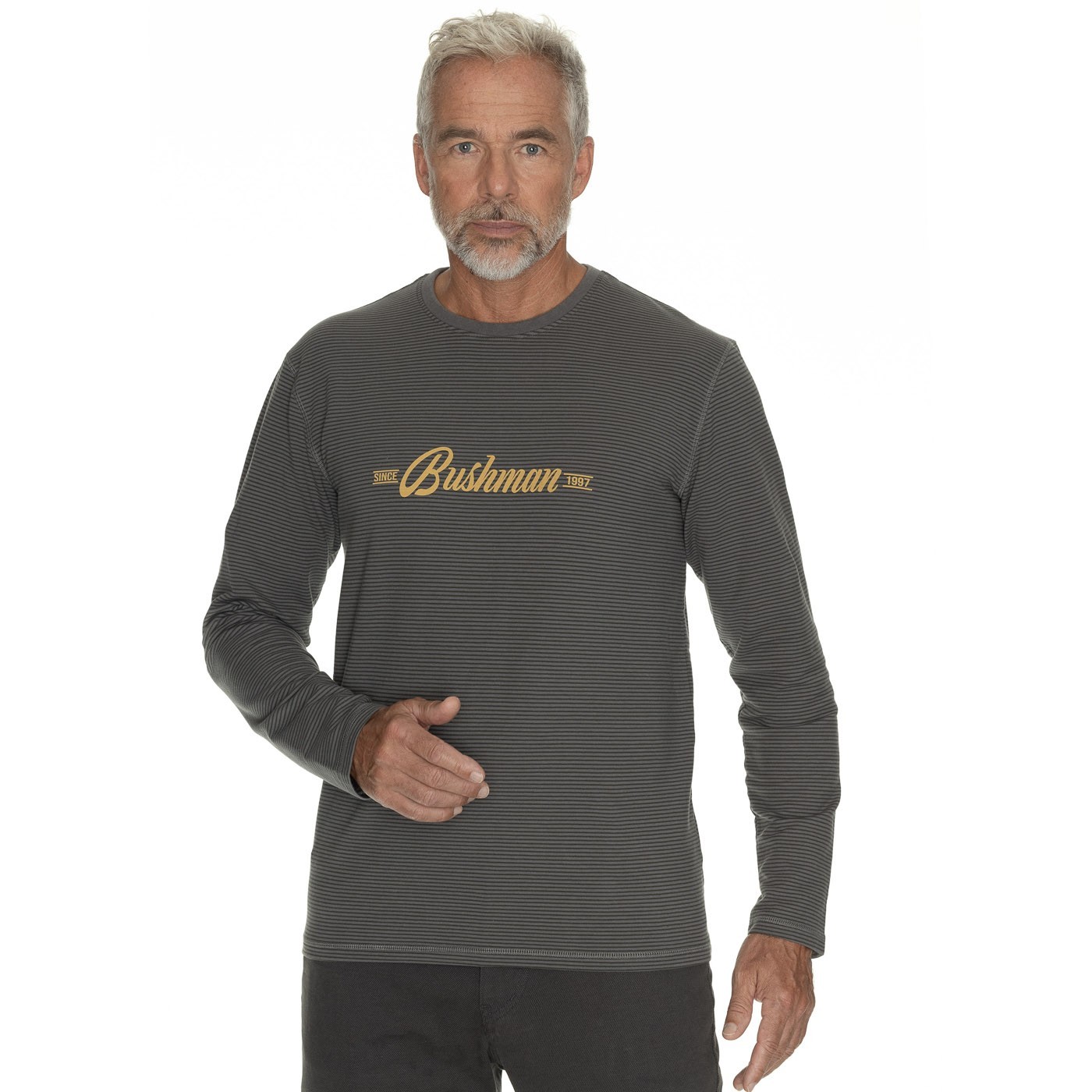 It's mainly used where the addition of a few percent of spandex fibre is needed to give the product positive elasticity properties
. It thus brings freedom of movement in places
where it is not only needed during exerting activities. The use of fabric softener in combination with high washing temperatures is not recommended for these products.
Men's GUNNISON T-shirt
Women's VISTA trousers
5. Cotton blended with polyester
It's mainly used where it's necessary to achieve a higher strength of the material, less tearing or colour fastness - in sweatshirts or cargo trousers. Polyester is a thermoplastic fibre derived from crude oil which dyes well and has excellent resistance to sweat, washing and sunlight. The fibres are more prone to surface pilling and electrify easily, but that doesn't change the fact that polyester makes products hold their shape for a long time,
making them durable yet soft.
The MACKAY child's durable hoody
6. Cotton blended with nylon, called BushTech
We use it mainly where we need to combine the positive properties of natural cotton fibre with those of nylon/polyamide. This synthetic fibre, derived from petroleum, was developed as a thermoplastic replacement for silk. In fact, it is one of the strongest fibres with very good elasticity. This allows us to maximize the positive properties of the products such as its softness, strength, breathability and natural water repellency. The material has excellent colour fastness and durability values in use, as well as in abrasion on stressed areas. An example of this is our Wolf Pro jacket.
Women's VIOLETA jacket
Men's all-season WOLF Pro jacket
7. Cotton blended with acrylic
We use it for blending on hats and knitted winter assortments primarily as an alternative to 100% wool products. This synthetic polymer is also called cheaper cotton.
It's lightweight, soft, retains heat, dries quickly and is mildew resistant.
It is low-maintenance and
does not shrink in the wash like more expensive fibres
(e.g. wool). Its weakness is its collection of electrostatic electricity and its susceptibility to pilling.
RIBBED cap UNI
8. Cotton blended with rayon ('artificial silk')
Used where we want to achieve a soft and silky feel to the final product, for which this first developed semi-synthetic fibre is perfectly suited.
In addition to cotton, you will often see regenerated cellulose fibre, called viscose, in our collections which we believe will soon be used as the more environmentally friendly EcoVero variant.
9. Viscose
Used where we work with that unmistakable specific matt sheen of viscose. These products then look very luxurious. Although the strength of viscose fibres is lower than that of cotton fibres and decreases with soaking,
the feel is noticeably gentler and softer than cotton.
It is often blended to enhance the quality of the final products - examples from our collections include combinations with cotton or linen.
Men's AGAR T-shirt
10. Bamboo viscose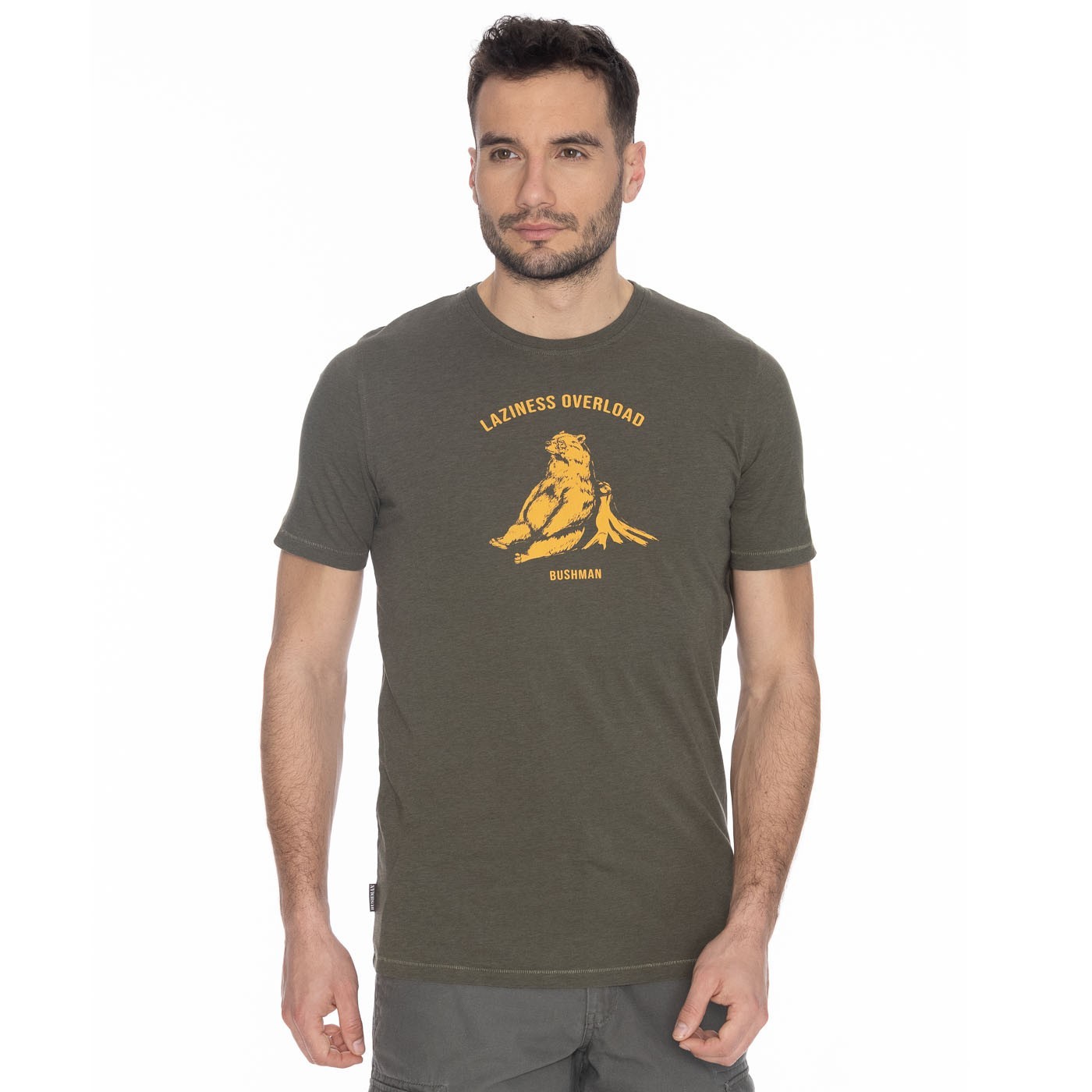 Used for products where we want to take advantage of the excellent thermo-regulatory properties of this fibre, which is
breathable and moisture-wicking,
which is particularly useful in the summer months.
It is antibacterial and anti-allergenic
,
soft and strong, flowing with a beautiful natural sheen.
It is a vegetable fibre with excellent biodegradability. From the fastest growing wood in the world, it is a sustainable resource that requires less water and no pesticides or other chemicals to grow. It emits a large amount of oxygen into the air and is able to absorb a large amount of CO2. Bamboo fibre is usually mixed with other materials in the production of fabrics, most commonly cotton.
Men's GWINN T-shirt
Men's long sleeve t-shirt MINTO
In addition to cotton and linen, we also use lyocell in our summer collections:
11. Lyocell / Tencel
We use this where we need to maintain
excellent moisture absorption capabilities.
It is a sustainable 100% biodegradable and compostable fabric. The basic raw material is (as with viscose) wood from various plant species (beech, birch, oak or eucalyptus, etc.), i.e. regenerated cellulose, which is processed using synthetic processes.
It is stronger and more breathable than viscose and its softness and smoothness make it an alternative to organic silk.
Lyocell products are therefore
synonymous with lightness,
and by the particular weave chosen in the weaving process, different levels of sheen, and therefore degrees of luxury, can be achieved.
It is pleasantly cool in the heat and the material is gently flowing yet opaque
, although slightly more prone to creasing.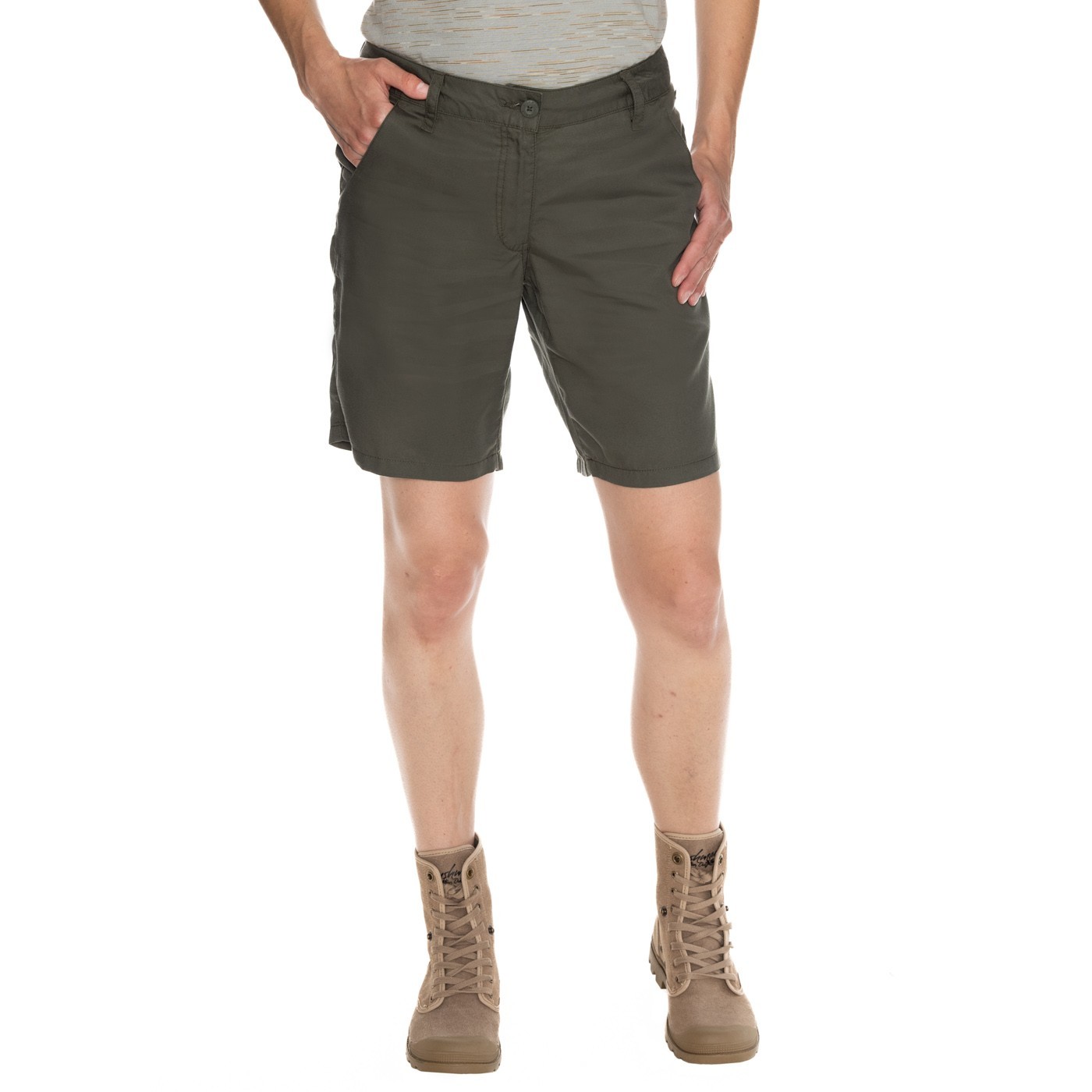 KLAMATH women's shorts
12. Modal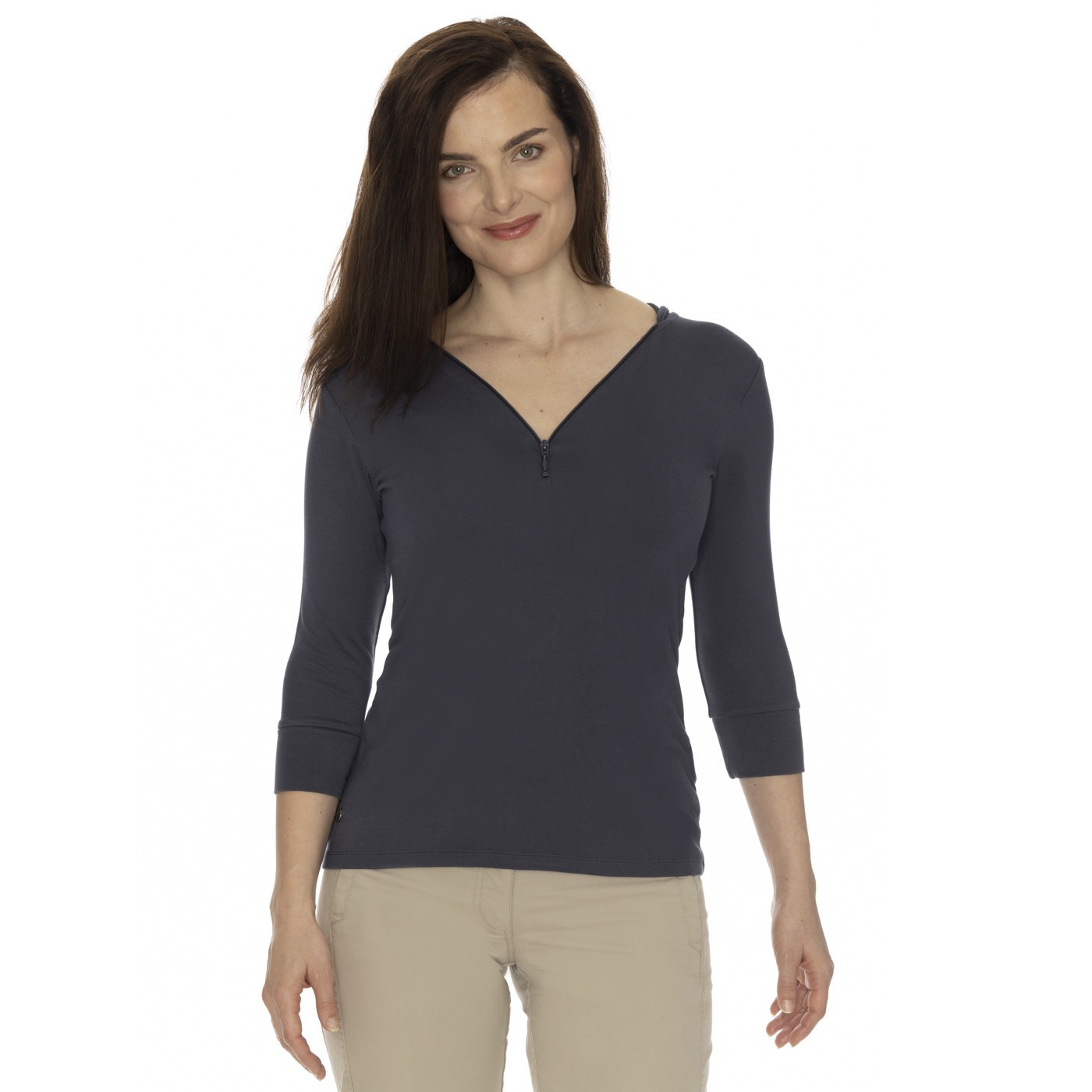 Modal is one of the 'rayon'- type fibres, made from beech wood cellulose. It's very fine, soft, absorbent, colourfast and doesn't pill. Mixed with elastane or other fibres such as bamboo viscose, it's comfortable to wear. It holds its shape very well, wrinkles less, dries easily and cools easily. The fact that it's most often used as a knit makes the product flowable and naturally elastic.
13. Linen
Flax is one of the oldest natural fibres, whose already highly positive properties are enhanced by modern technological processes.
It's breathable, strong and brittle, has a cooling feel
but is more prone to wrinkling. The colour range and the degree of natural sheen vary according to the type of flax. Its
durability is excellent, both in sweat, in light and in washing,
giving the material and linen products the prerequisite for longevity. In addition, with good care we achieve a greater tactile softness in use. In our collections we use it with cotton to add to its softness and smoothness. This combines the positive properties of both fibres -
absorbency, breathability, cool feel and colour stability.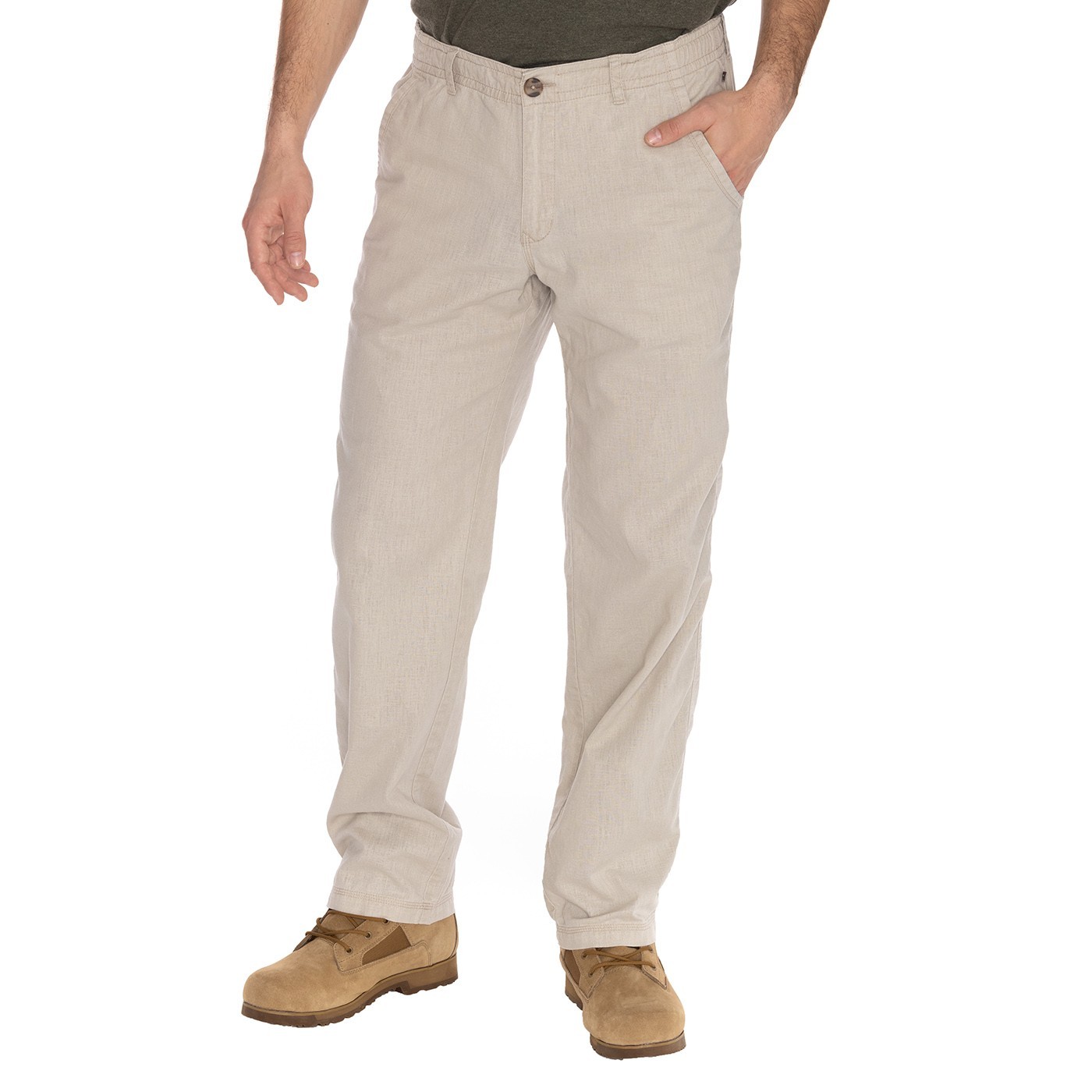 CORA linen skirt
Men's linen trousers ARAGON
Next picture