A rattletrap not once but twice!
Aug 4, 2020
"It's a bit of a boy's passion, I sewed the first 'Canvas' on my mother's machine all by myself," says Martin Novák, the owner of a farm, a brewery and a museum.
In front of the brewery. Martin Novák with his Velorex (his own 'Canvas') in the courtyard of the family brewery at Obora. It was supposed to be a story about the Velorex and its owner, but it has turned out to be a story about a man who not only built a functioning farm and working brewery, and just by the way, he also has some odd bits of canvas. Although even the story of his snake plan is not to be discarded…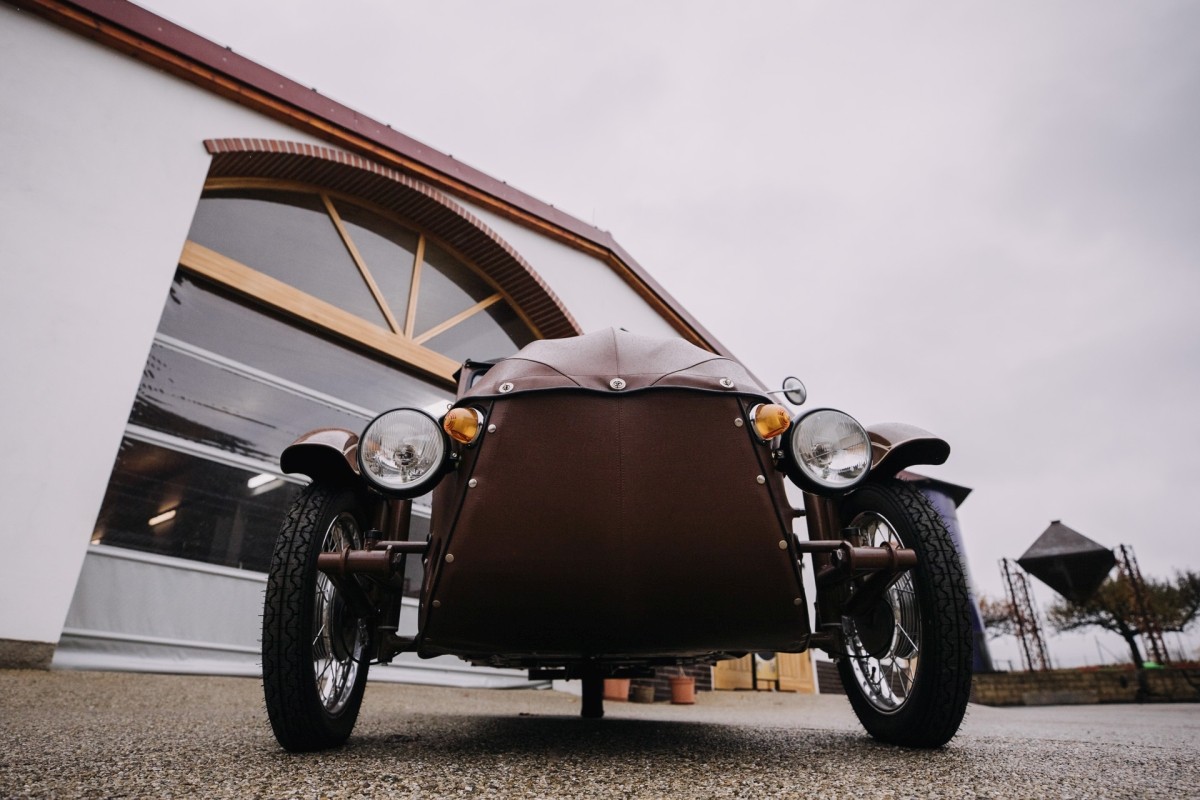 Actually, it was a coincidence. When you go on a trip around Tábor, South Bohemia, and drive through the village of Obora, near Planá nad Lužnicí, you'll be bound to end up in the local family Brewery of Obora. And if a distinctive 'Canvas' catches your eye while tasting a delicious drink and you've got a Velorex printed on your T-shirt, then you're in luck! Word begat word, and so it was that BUSHMAN returned to the scene to learn some more.
From his own real hops and barley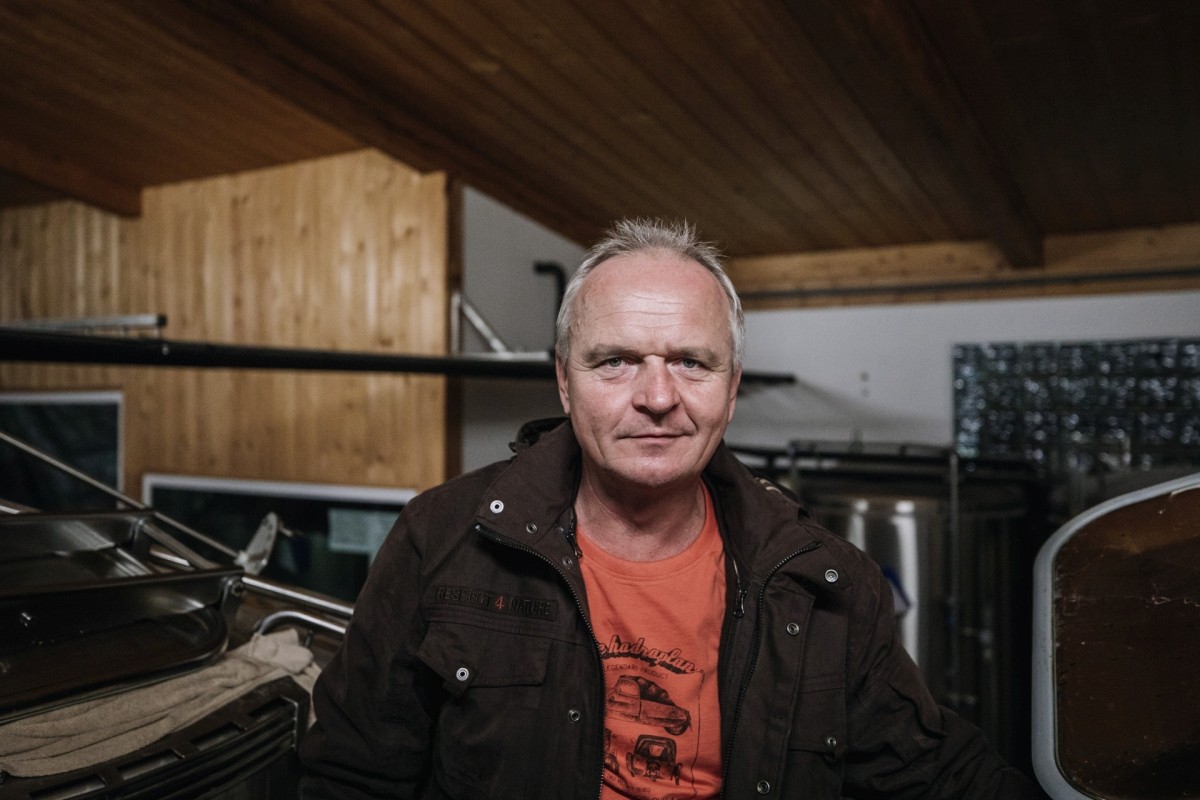 "I graduated from the Faculty of Wood Science at the Technical University in Zvolen - we were in the last year of old Czechoslovakia. I got married in Obora in the 90's and we started farming right after school," says Martin Novák as we walk around the brewery. What began with the breeding of dairy cows on 20 hectares, which were returned to his father-in-law from the former Collective Farm, is now a farm working on 500 hectares of agricultural land. Here you will find fodder for the Holstein cattle, corn, wheat, oats and rye. "One hundred meters behind the brewery, we have our own head of hops, of which not much is brewed elsewhere," explains Martin Novák, sniffing to us from a crate in the fragrant brewery.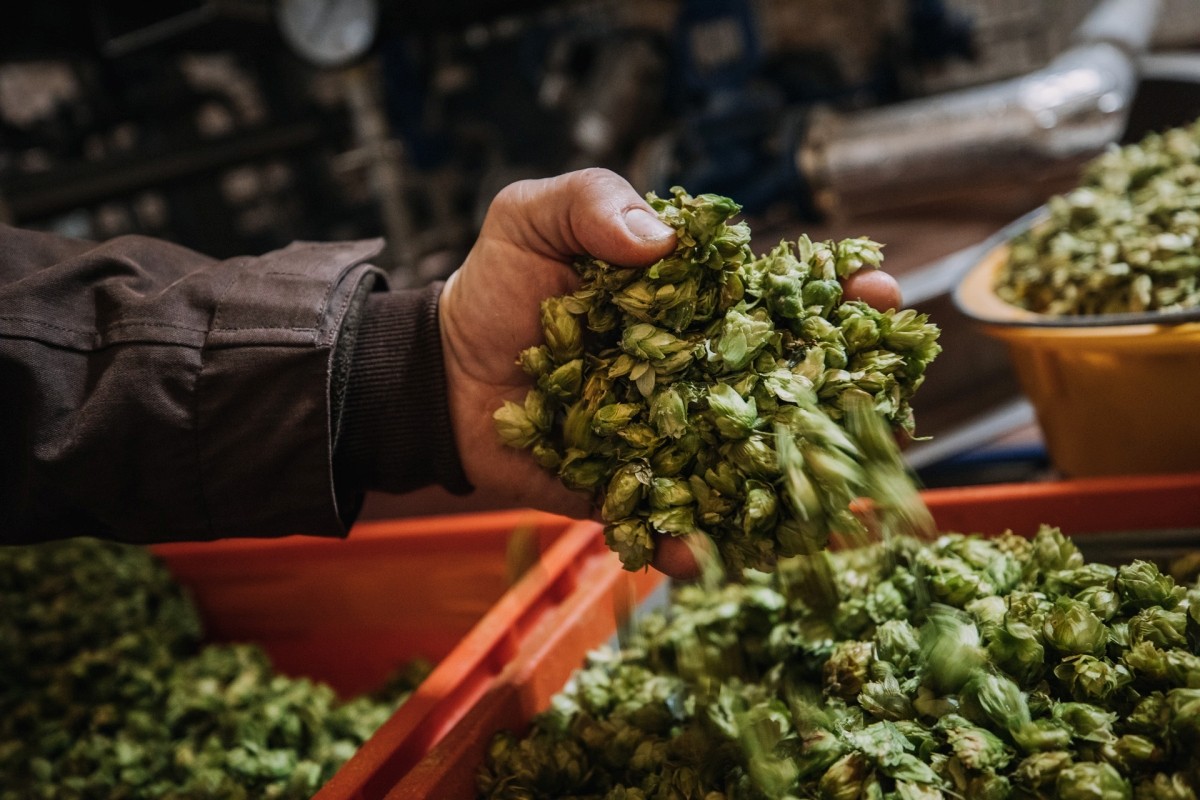 "We harvest it by hand and vacuum and freeze the combed heads, so we actually brew from fresh hops all year round. We buy some special varieties that need a specific climate from America or New Zealand." The year before last, malting barley was also sown here for the first time to brew beer: "They are already sweetened and we also brew from our own malt." According to Martin Novák, when he does something, he tries to do it locally and, if possible, 'close to the cycle': "That's why we built a small biogas plant in 2008. And in 2015, we founded a brewery. The brewery produces malt, which we use to feed the cows. From what comes from the cowshed and other biomass that the farm produces, we produce both biogas, which today, in addition to our own premises, heat almost half of the village, and electricity, with which we recharge cars to deliver the beer. "
About the Simson…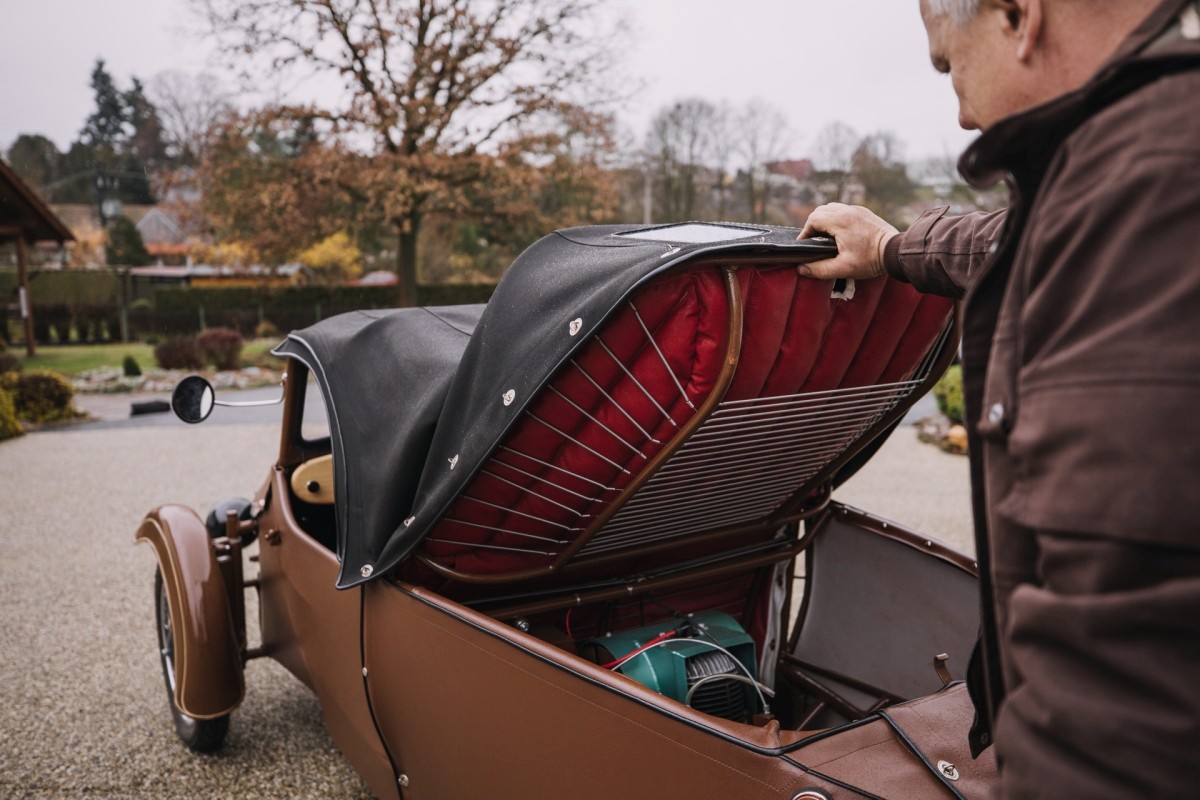 How does Velorex fit into all this? "It's a bit of a boy's passion," says Martin Novák with a smile as he goes around it: "As a boy, I enjoyed motorcycles, I dreamed of a Simson - by the way, and I had money saved up for it since I was 14 years old. I was on the waiting list, as it used to be under the Communists - either there was nothing to buy at all or it was on a waiting list. I used to ask questions about it and I was always told that that queue was no longer valid – but there was another. It wasn't until I was 16 that I did get papers on a motorcycle and forgot all about the Simson." He told all this to his wife, just before his Big Fifty came before the end of last year. "In the evening we held a small family celebration and suddenly the door opened. The former head of Mototechna stood in them, pushing a Simson. So it finally came to me after thirty-five years! So I drove it right away. That was very nice," thus Martin Novák describes another of his strong 'motorcycle experiences'.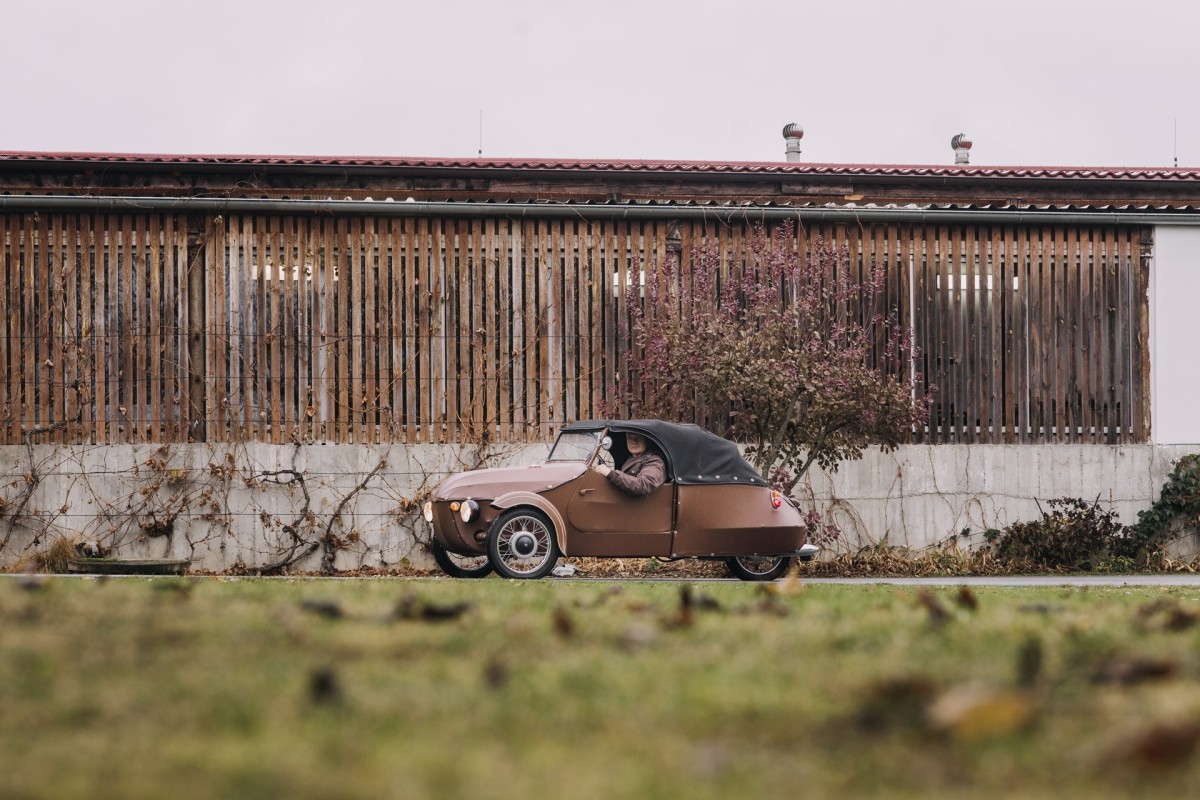 … And the Velorex
And how was it with that Velorex? "Sometime in 1988, I bought an old wreck and sewed it in my mother's machine at home and completely restored it. I also went on a date to see my future wife, and we were on a trip in it when the Bolsheviks let us go over the barbed wire. But then I needed money for a project to build a stable, so I sold the 'Canvas' for 15,000Kc."
End of story? No way!
"About three years ago, a friend called me: Don't you want a 'Canvas'? I was thinking probably not anymore, yet I didn't know what anymore… But he continues: But it must be yours! I say to him: Well, don't just talk!" laughs Martin Novák. So he set out with him and bought one a second time for 115,000Kc, again a real wreck. "This time I had it put in order by a proper company, as well as the upholstery, and only the skeleton and the engine we did with the boys in the workshop."
The Velorex is just a tiny piece in the mosaic of everything that Martin Novák goes through every day to brew, among other things, about 1,500 hectoliters of Sickle, Ryegrass or Hedgehog a year, on whose labels fairy-tale characters come to life. And we've not even mentioned that the family of Martin Novák reconstructed the building of the former granary in the neighboring village of Želeč a few years ago, where it operates a museum of agricultural machinery and a picture gallery…
With a 'Canvas' on a t-shirt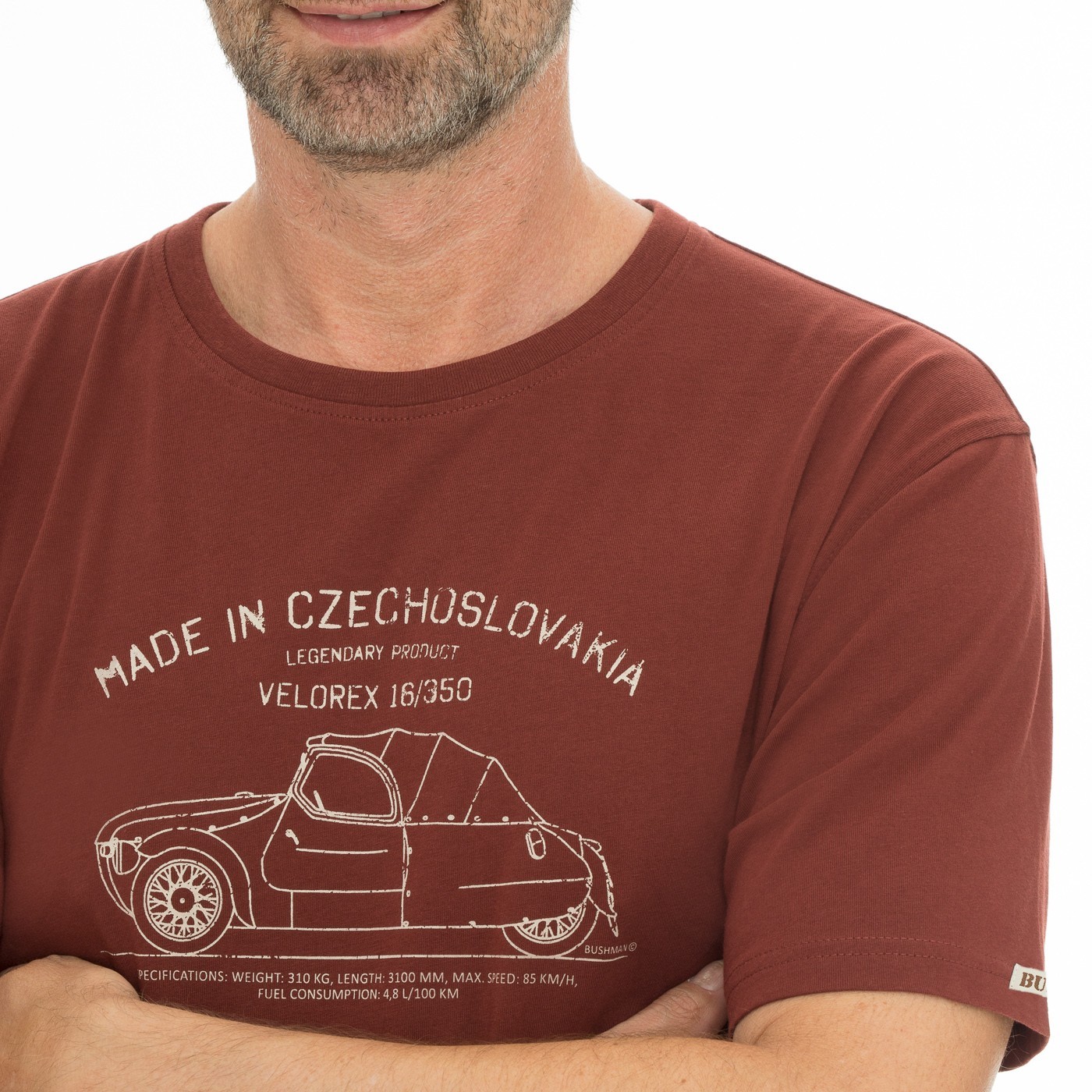 Last autumn, BUSHMAN released the first series of T-shirts with Made in Czechoslovakia prints, on which it pays tribute to the legendary products that have conquered the world and the hearts of many generations. Velorex was not missing among them, and because the interest in it exceeded our expectations, you will also find a 'Canvas' on the BOBSTOCK II t-shirt from the current collection. And if you are not a big fan of – say – old pipework, you will definitely choose the motto that is closest to you among the prints on BOBSTOCK t-shirts.
Next picture